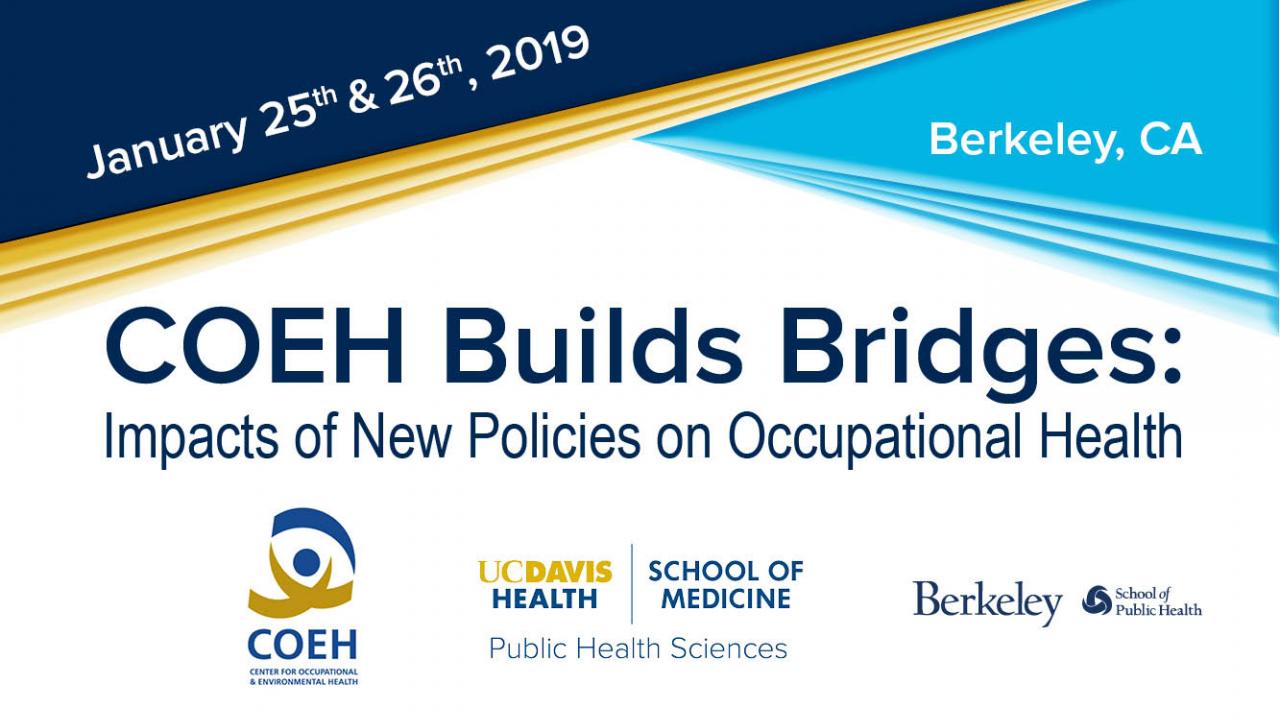 Location
Bancroft Hotel, Great Hall, 2680 Bancroft Way Berkeley, CA 94704
Continuing the partnership we began last year, UC Davis and UC Berkeley will jointly offer our annual symposia in January 2019. This year we will explore how our research and advocacy can change existing policy and help to create new policies that protect workers and public health. Our continuing medical education will continue to address practice gaps with the latest research in occupational and environmental health.
Friday January 25th 
41st annual UC Berkeley Lela Morris Symposium
This joint symposium presented by UC Berkeley and UC Davis will explore the impacts of new policies on occupational health.

Day one of the symposium will discuss the making, implementation, and assessment of policies designed to improve worker health. Speakers will present information on the process by which a policy is created and why. The challenges and successes with implementing and assessing new standards in different industries will be discussed. Recent standards in lead, silica, hotel housekeeping, safe patient handling, workplace violence, and sexual harassment will be discussed in detail, along with a discussion of ongoing implementation and assessment strategies. Health policy experts will discuss how the impact of these policies might be assessed over time. 
Day one of the symposium is intended for occupational and environmental health and safety professionals including registered environmental health specialists, industrial hygienists, certified safety professionals, occupational medicine physicians and mid-level practitioners, occupational health nurses, and other allied health professionals. 
Saturday January 26th 
37th annual UC Davis Occupational and Environmental Medicine Symposium
Day two of the symposium will explore current topics in occupational and environmental medicine. The Center for Occupational and Environmental Health at UC Davis offers this annual symposium to clinicians as a part of its mission to disseminate new knowledge related to occupational health and policy. This program is designed to improve provider competence in the prevention, diagnosis, and treatment of worker-related injuries with the intention of improving health outcomes for California workers.
The OEM Symposium on Saturday January 26th is designed for physicians, nurses, and other health professionals to earn CME and MOC credits. 
Clinicians can expect topics in:
commercial drivers exams
orthopaedics
traumatic brain injury
and many more
Registration Fees
Friday, January 25th - 

Early Bird Registration: $75.00 (available until November 26, 2018)
Standard Registration: $85.00
Student / Resident Registration: $60.00

Saturday, January 26th - 

Early Bird Registration: $325.00 (available until November 26, 2018)
Standard Registration: $375.00
Student / Resident Registration: $200.00

Friday, January 25th & Saturday, January 26th Package - 

Early Bird Registration: $365.00 (available until November 26, 2018)
Standard Registration: $400.00
Student / Resident Registration: $250.00